Offering a beautiful Montessori Preschool Environment
in Santa Barbara since 1988
My Special School is a Montessori home-based preschool with an emphasis on peaceful, compassionate connection with one another and all with whom we share the earth.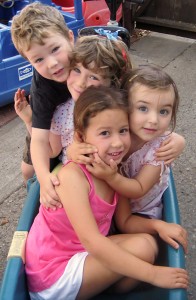 Small group program with 4-6 children
Serving children from 2 through 5 years
Open year round 9am-3pm
Field trips & community involvement
Intergenerational activities
An array of Cultural Arts classes, including World Rhythm & Song, Creative Movement, Drama, Yoga, and Qigong
Friendships & fun
Located on Santa Barbara's beautiful Westside
Please note: Some activities and outings have been temporarily postponed due to COVID. We will resume once it is safe to do so!
If you think it's important for a child to…
be vibrantly inquisitive about new things
acquire fine motor skills
enjoy the process of learning
develop an analytical mind
work independently without disrupting others
work well with others
be able to focus his or her mind on the task at hand
feel purposeful and valuable
derive satisfaction from achievements
become an independent, confident adult
…then you might wish to choose the Montessori Method for your child.
Come be a part of the ever-growing "MSS Family"
where it's all about the love!